Tool Caddy - Sewing Basics 2 of 2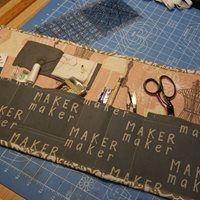 Make a simple Tool Caddy while reviewing the basic skills of - Measuring, Cutting Marking and Stitching. This is a fun tool caddy made from home decor fabrics to make it durable. Many pockets of different sizes allows you to store a variety of sewing tools, It can also be used for other makers tools if desired. All materials provided - we have a unique collection of remnants from home projects.
You do not have to be registered in our certification class to make this project.
Project consists of 2 sessions and may require homework.