---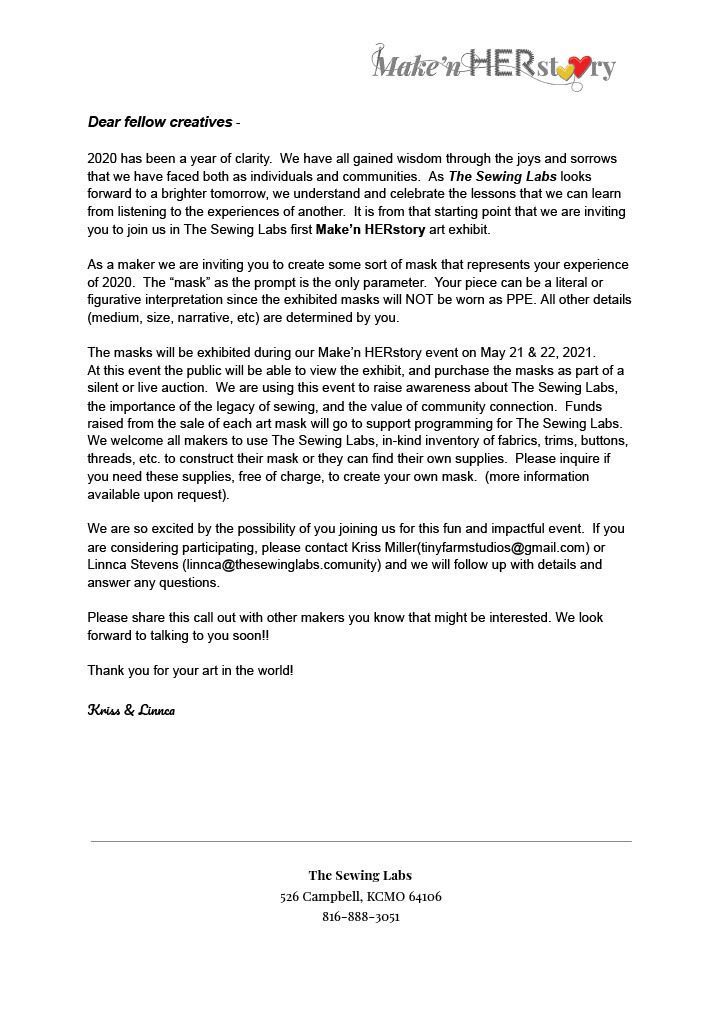 ---
Thank you Artist & Makers for your interest
in submitting a piece into our "Mask Parade" 
This art exhibit will be part of The Sewing Labs, signature event - "Make'n HERstory"
Make'n HERstory is a conference to celebrate women using their creative muse to " make a living and/or make a life"  This celebration brings together all forms of makers and honors them through their journey.  Each "maker" featured is here to tell her story and share with those attending the "possibilities" of how making fulfils their life and supports them.
You are invited to share your creative muse with your "mask" art project.  And at the same time you will be supporting The Sewing Labs mission.
 "The Sewing Labs is an inclusive and welcoming community teaching the legacy of sewing for employment, entrepreneurship, and enrichment".
The masks will be exhibited during our Make'n HERstory event on May 21 & 22, 2021.
At this event the public will be able to view the exhibit, and purchase the masks as part of a silent or live auction.  We are using this event to raise awareness about The Sewing Labs, the importance of the legacy of sewing, and the value of community connection.  Funds raised from the sale of each art mask will go to support programming for The Sewing Labs. 
---
In addition, we are excited to share with you that mask makers
will also be eligible to win a
prize packet of maker supplies including but not limited to:
Singer Sewing Machine - Model #
Tool kit from The Sewing Labs consisting of: scissors, snips, tape measure, pins & exclusive TSL pin bowl, hand needles, hem gauge
 $25 Gift card - to art supply store
25 lb. bag of assorted fabric from TSL stock - artist to select fabrics
** entries into the drawing are limited to 1 per mask maker  ** mask makers can submit up to 2 masks for exhibit
---
Mask Delivery is Due May 7th, 2021.  Mask must be delivered to TSL @ 526 Campbell KCMO - call for open times 816-888-3051.  
Masks will be displayed "as is" if your mask requires special display hardware be sure to include - this will become part of the mask donation.
Each mask will have an artist display card - **information gathered below will appear on card