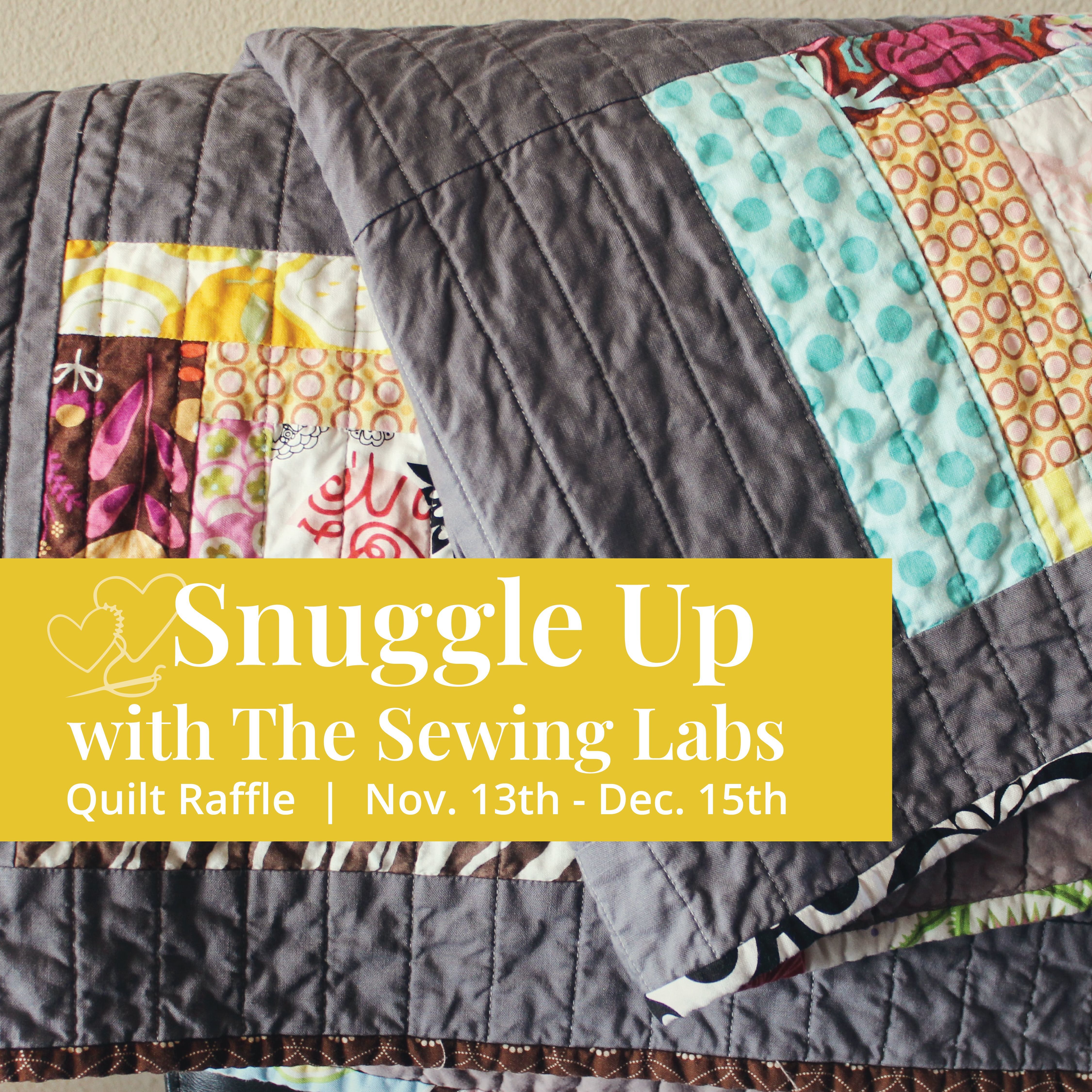 Support Snuggle up with The Sewing Labs quilt raffle.
Please take time this during this season of giving to support The Sewing Labs by purchasing a raffle ticket today!!
2020 has been a year of uncertainty due to the COVID pandemic but The Sewing Labs is proud to have been part of a community of sewists who came together to sew and distribute over 63,000 masks and counting.   As we continue to reopen for training, workshops and classes we need your help to raise needed funds to close out this year. Our goal is to raise $5,000 with a quilt raffle.
SEW.... we are asking for your financial support and in return you have the opportunity to win one of our beautiful handcrafted quilts.   We are so thankful to local quilters who handcrafted and donated these beautiful works of art.   As you snuggle up remember that each stitch of these quilts is full of inspiration and hope for the future.  They are crafted to be shared and cherished by the recipient.  
WATCH … for the live launch of the raffle on Friday November 13th @ 3pm on Facebook.  This will be the first time you get to see these beautiful quilts.  And we will have them available to view on our website at this time.  Rules provided below.
But … DON'T WAIT … you can buy your tickets today!!!!  Tickets are $10 each OR check out our discounted pricing when purchasing 5 tickets or more!
THANK YOU for your support!!
Snuggle Up with The Sewing Labs - Quilt Raffle Rules
1. TO ENTER. Tickets may be purchased over the internet at:https://thesewinglabs.community/snuggle-up-with-the-sewing-labs---quilt-raffle.html. No tickets will be sold in person.
NOTE: DEADLINE TO PURCHASE TICKETS ONLINE IS 11:59 P.M. ON WEDNEDAY, DECEMBER 15, 2020.
OFFICIAL DRAWING. The official drawing will take place at The Sewing Labs on December 16, 2020 at approximately 3:00 PM . You do not need to be present to win.
2. SPONSOR. The Raffle is sponsored by The Sewing Labs. All decisions of the Sponsor are final.
3. CONDITIONS. An eligible entrant may only enter via the ticket purchasing methods as described above. Incomplete entries are void. By entering, entrants acknowledge compliance with these official rules including all eligibility requirements. All entries become the property of the Sponsor and will not be returned. Neither Sponsor nor advertising and promotion agencies are responsible for incorrect or inaccurate transcription of entry information, or any other error or malfunction, or late, lost, illegible or misdirected entries. Entry materials that have been tampered with or altered are void. No copies, facsimiles, or reproductions of entries will be accepted.
4. DETERMINATION OF WINNER. A random drawing will be conducted on December 16, 2020 from among all eligible entries received. This raffle contains multiple quilt prizes.  All quilts will be awarded in a random drawing by quilt number. Odds of winning depend upon the number of eligible entries received. The winner will be notified by telephone, mail, and/or email. If the winner does not reply within four days of contact, another winner will be selected.
Any attempt to deliberately damage the content or operation of this Raffle is unlawful and subject to legal action by the Sponsor or its agents.
5. PRIZE. The winner will receive a handmade legacy quilt as described on this page:https://thesewinglabs.community/snuggle-up-with-the-sewing-labs---quilt-raffle.html.  
6. ELIGIBILITY. The Raffle is open to legal residents United States and who are 18 years of age or older as of November 12th, 2020. The Raffle is void where prohibited.
7. WINNER'S NAME. For the name of the prize winner, refer to The Sewing Labs Website, Facebook or Instagram pages.  
8. RULES REQUESTS. To receive a copy of the official rules, or log onto thesewinglabs.community
9. LIMITATIONS ON LIABILITY AND DISCLAIMERS. Sponsor, its employees and its Directors, will not be responsible for or liable to any prize winner, winner's family, or estate for any submissions of entries that are lost, late, illegible, damaged, incomplete, or incorrect. Sponsor can, at any time it chooses without recourse, decide to terminate or modify the Raffle if the integrity of the Raffle appears to be compromised. If the Raffle is cancelled, all monies paid for raffle tickets will be returned to entrants. Decisions of the Sponsor related to the winner, interpretation of official rules, and other matters related to this Raffle are final.
Sponsor makes no warranty of any nature with respect to the raffle or the prize, whether in respect of fitness for a particular purpose, satisfactory quality or otherwise. Entrants acknowledge that, except as specifically set forth herein, Sponsor has not made and disclaims all liability for any warranty, representation or guarantee, express or implied, in fact or in law, related to the raffle or the prize. All entrants, by entering, agree to be bound by these official rules. By accepting the prize, winner agrees to release Sponsor, its directors, employees, officers, or agents, from any and all liability, loss, or personal or property damages arising directly or indirectly out of or in connection with the awarding, receipt, accepting, using or misusing of the prize or participation in any prize-related activities.
10. GOVERNING LAW. This Raffle is subject to all applicable federal, state, and local laws. All disputes surrounding the Raffle and any prize awarded hereunder will be subject to the substantive laws of Missouri. VOID WHERE PROHIBITED OR RESTRICTED BY LAW.
11. GENERAL. Winner consents to the use of his or her name, biographical information, photographs and/or likeness for advertising and publicity purposes without additional compensation, except where prohibited. Sponsor reserves the right to verify eligibility qualifications of the winner. Purchased tickets are not tax deductible nor considered a donation to the Sponsor.
12. QUILT DELIVERY - Winners consent to pick up their quilt locally @ The Sewing Labs @ 526 Campbell, KCMO 64106, by December 31, 2020 or arrange for shipping methods including costs.